Patrons of Sad Hill
50th Anniversary of The Ugly good and the bad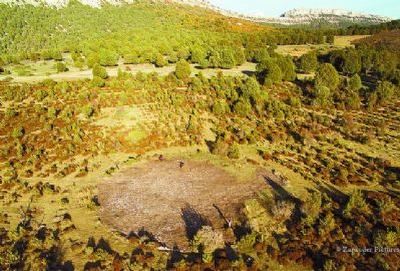 200 graves in the cemetery of the movie "The Good, the Bad and the Ugly" and have been sponsored through the initiative of the association that promotes recovery. In April work will start to install the custom headstones
Diario de Burgos
A few months ago Sad Hill Cultural Association, which works for the recovery of the outdoor scenes of the film The Good, the Bad and the Ugly located in the valley that lies between Santo Domingo de Silos and Contreras, launched the 'sponsor a tomb'. Currently, 200 tombstones already have 'patrons' and they come from all over the world "even from the small, tropical Belize" says surprised Sergio Garcia, a member of the association. This initiative will begin to become a reality in April when the money raised will begin placing the tombstones sponsored and custom in the legendary Sad Hill Cemetery, where pass the final minutes of the film.
Sponsor a tomb is simple and is a way to collaborate with the aim of becoming a member association. Through the website www.asociacionculturalsadhill.wordpress.com may make a contribution of 15 euros to be used for travel expenses and material, in exchange for which, headstone in this cemetery may have registration Godfather.
The duel between three Clint Eastwood, Eli Wallach and Lee Van Cleef in the fictional military cemetery known as Sad Hill Cemetery during the last moments of the film The Good, the Bad and the Ugly is one of the most memorable film sequences. After the chambers was the masterful direction of Sergio Leone and the actors looked majestic rhythmic soundtrack by Ennio Morricone, The Gold Rush. Sergio Garcia explained that "we want to promote the film tourism, so take some tombstone an inscription dedicated to Sergio Leone, one of the two main actors died, another group to Metallica concert opens with the soundtrack of the film. We want the cemetery is a place of homage and enjoy. "
At the moment, the central stone circle so characteristic of this particular cemetery is recovered. The restoration work was completed in 2015 the same thanks to a volunteer campaign launched. "On weekends in September, October and November came people to clean the brush and place the stones that marked this circle" Sergio says.
Sad Hill Association promotes the recovery of the exterior of the filming of this movie and wants to become an interesting film culture for tourism, as they are part of the history of cinema. 2016 marks the 50th anniversary of the shooting and Sergio Garcia and forward the events to commemorate this anniversary will begin in July. In addition, Garcia announced that "we are trying to contact Ennio Morricone to offer a concert in the area."
Film tourism. "The concept of film tourism we have not invented us and here you can exploit," explains Member of Sad Hill. The association has already been present in some tourism fairs as Fitur (Madrid) and Intur (Valladolid). There, through a theatrical representation of the final scene and a chat they have highlighted the potential of this area Burgos, in particular, in this place they're placing value.
« Skeptics in the pub: "Medicine without guile" VII THE CONFERENCE ROOM OF DIN ... C. SERENO »