Dinosaurs Diary. Number 12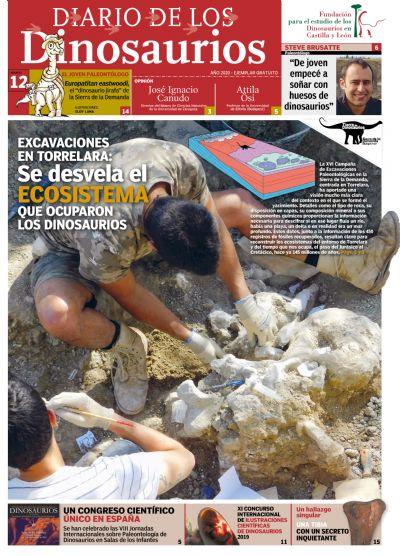 The Foundation for the Study of Dinosaurs in Castilla y León has just published number 12 of the Dinosaurs Diary, which collects the activities and news generated -among others- by researchers working with the Dinosaur Museum of Salas de los Infantes during the year 2019.
The collaborations are signed by José Ignacio Canudo (director of the Museum of Natural Sciences of the University of Zaragoza), Diego Castanera (paleontologist, Miquel Crusafont Institute of Paleontology, Barcelona), Attila Ösi (professor at the University of Eötvös –Budapest-), ​​René Hernández (paleontologist, Autonomous University of Mexico.). There is also an interview with Steve Brusatte (he is a professor of vertebrate paleontology at the University of Edinburgh -Scotland- and scientific disseminator who has recently published his latest book, The Rise and Fall of the Dinosaurs, translated into 20 languages ​​and is being a success of sales.
A dean publication in scientific dissemination
The Diario de los Dinosaurios is a free publication, unique in Spain on dinosaurs, which serves as a bridge between science and society in a pleasant and rigorous way. It uses a journalistic language, accessible to all ages and social sectors where both the recent scientific findings located in the Sierra de la Demanda excavation campaigns and the latest news related to paleontological heritage in other parts of the world are reported.
We hope you like it.
Until you get hold of it, you can download it in the following link in pdf format or read it in online magazine format.
Documentación:

fi12117diario-de-los-dinosaurios-12-fin.pdf