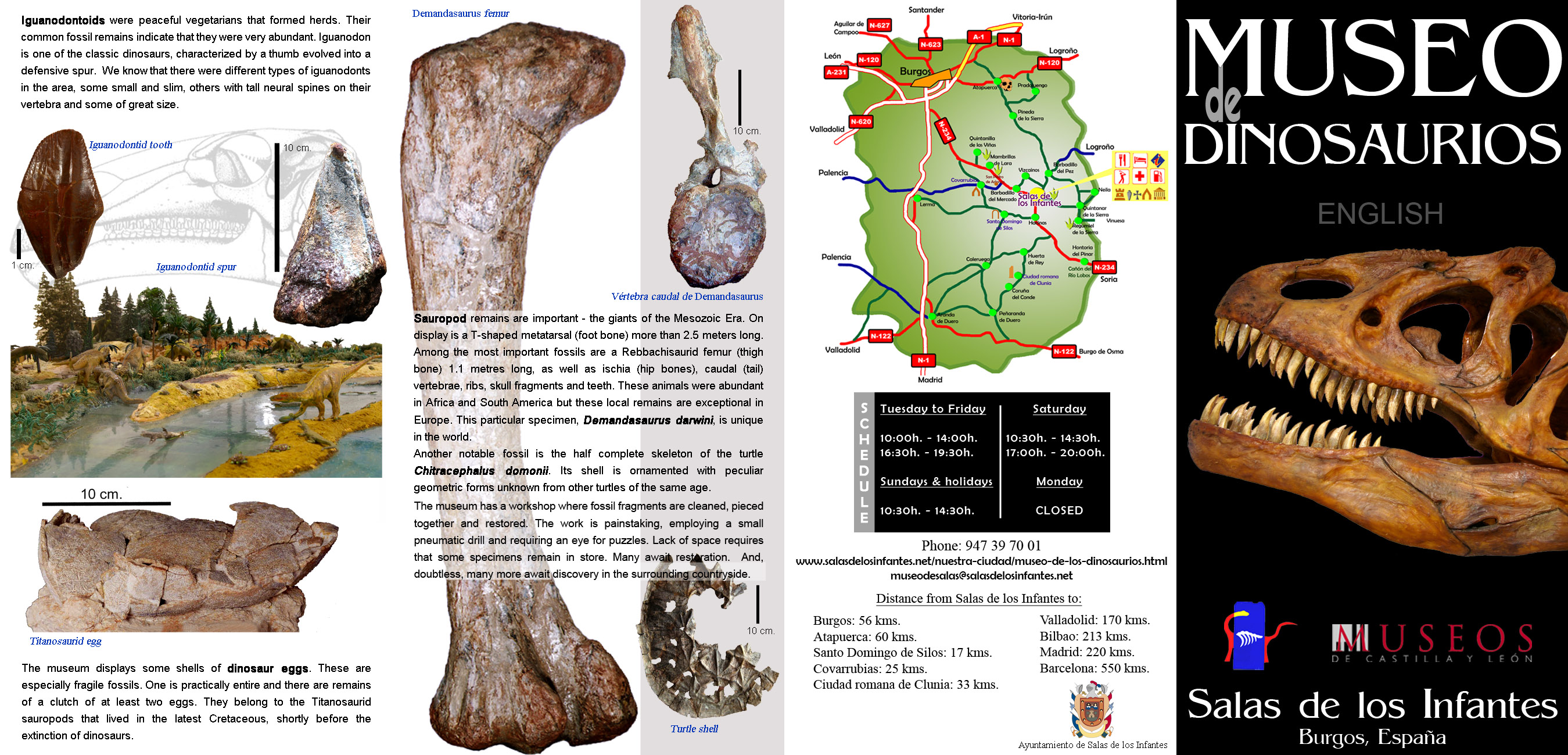 The Dinosaurs Museum of Salas de los Infantes was opened to the public the 21 of September of 2001. From its opening, and to May 31, 2019, it has received more than 211.000 people, which supposes an average of 1000 visitors/month.
Located in the Plaza Mayor of Salas de los Infantes, province of Burgos (Spain). The Museum exhibits the collection that the Archaelogical Paleontological Association of Salas (C.A.S.) donated to the Town Hall of Salas.
SATURDAY OCTOBER 12: SPANISH NATIONAL PARTY: 10:30 a.m. - 2:30 p.m. And from 5:00 p.m. - 8:00 p.m.
SCHEDULE OF VISITS

Tuesday to Friday


10:00 h. - 14:00 h.
4:30 p.m. - 7:30 p.m.



Festive and Sundays


10:30 h. - 14:30 h.

Saturdays


10:30 h. - 14:30 h.
5:00 p.m. - 8:00 p.m.

Monday
Closed
ENTRANCE
General: 2,50 €




Reduced: 1,50 €




· Holders of Young Membership card,Students and Unemployed
· Retired or pensioners
· Groups (of more than 15 people)
· Groups of schools and institutes
· Investigadores, previa solicitud
· Investigators, previous request Members of Associations of Museums and artistic critic and Foundation of Friends of the Museums
· Members of cultural or scientific Associations
· Conservatives of museums
· National Guides

Gratuitous:




· Visitor Day: Wednesdays.
· Friends of the Foundation for the Study of the Dinosaurs in Castilla y Leon
· Minors of 8 years
· The people in charge of scholastic groups

GUIDED VISITS:

visits guided groups are made arranging the visit by the telephone or the email of the museum.

TELEPHONE: 947 39 70 01
email: museodesalas@salasdelosinfantes.net