Winners and selected works of the 11th International Scientific Dinosaurs Illustrations Contest 2019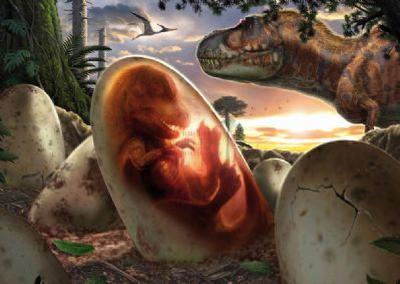 The prizes awarded have been the following: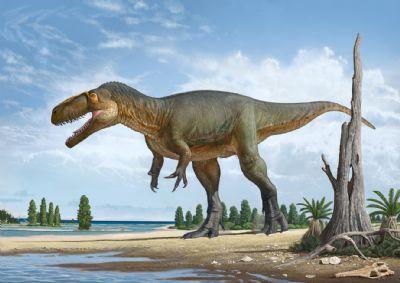 FIRST PRIZE: "Tyrannosaurus nest". Author: Franco Tempesta (Italy).
A new generation of kings is about to be born, in the nest of a Tyrannosaurus rex in the American Cretaceous.
Technique used: digital (computer painting).
SECOND PRIZE: "Das Monstervon Minden". Author: Sergey Krasovskiy (Ukraine).
The painting represents the Ornatenton Formation, a great megalosaurus. Wiehenvenator albati looking for food on the beach. In the lower right corner is the skull of a marine crocodile Metriorhynchus sp.
Technique used: digital.
THIRD PRIZE: "PELECANIMIMUS". Author: Juan José Castellano Rosado (Spain).
Representation of the Pelecanimimus dinosaur (Ornithomimosaurid theropod) from the famous Las Hoyas site in Cuenca.
Spain has become an exciting place if you are a dinosaur lover. In recent years we are having many joys from sites such as Las Hoyas in Cuenca, Salas de Los Infantes in Burgos, or other areas such as Teruel, Asturias, or Valencia for example.
Technique used: The technique is digital, but treated in a totally "old fashioned" way. Starting from the initial pencil sketch, to subsequently move on to the staining process, and finally to the toughest final detailing process. "
ACCESS: 4th: "Udurchukan Formation". Author: Marcus Burkhardt (Germany).
Udurchukan formation with Olorotitan, nodosaurid and theropods.
Technique: Acrylic and oil painting on canvas.
ACCÉSIT: 5th: "Baryonyx's Lunch in Salas de Los Infantes". Author: Isacco Alberti (Italy).
On the edge of a 130 million-year-old horsetail meadow in Spain, a specimen of Baryonyx walkeri has just dragged a large fish to land that will be its food. with curved claws he holds it firmly while he starts eating it still alive.
The presence of Scheenstia mantelli remains in the fossil skeleton of B. walkeri and the conformation of the skull and teeth indicate a diet for fish. In this reconstruction the possible appearance of B. walkeri is hypothesized on the basis of analogies with current animals with similar diets and habits (crocodiles, herons, cormorants), while for hunting behavior, inspiration comes from the way of sustaining the Brown bear fish. The fish is reconstructed with the appearance of the closest relative of Scheenstia, Atractosteus.
It is the only contest of these characteristics that is held in Spain (and of the few, on a regular basis and with these characteristics, internationally). Its quality is based on the jury that values ​​the works presented; on this occasion it has been formed by A team of 6 specialists of different nationalities:
- David Bonadonna (Italy), John Sibbick (United Kingdom), Robert Nicholls (United Kingdom), all paleo-illustrators.
- Matthew Herne (Queensland University of Technology -Australia-) and Verónica Díez Díaz (winner of the 2018 Female Digital Leader Award. She works at the Natural History Museum in Berlin), paleontologists specializing in dinosaurs.
- Diego Montero, member of the Scientific Committee of the Dinosaurs Museum of Salas de los Infantes (Spain).
A total of 47 illustrations of 23 paleo-illustrators from South America (Argentina, Peru, Chile and Brazil) and Europe (Germany, Spain, Portugal, Italy and Ukraine) have been presented to this eleventh edition. In total 9 countries and two continents. The contest is consolidated as an international reference for paleontology artists.
You can see all the works presented by clicking on the image on the right entitled "Works presented to the XI International Contest of Scientific Illustrations of Dinosaurs 2019". The prizes are funded by the Dinosaurios CyL Foundation and the salense company Hernáiz Muelas Construcciones Hercam, S.L.
All the illustrations chosen by the Jury are exhibited in the Dinosaurs Museum of Salas de los Infantes (Burgos, Castilla y León, España) until the end of January-February 2020. This exhibition will also be offered to different paleontological institutions, Museums and exhibition halls, as has been done on occasion previous to the National Museum of Natural Sciences of Madrid, the House of Sciences of Logroño, Museum of Natural Sciences of the University of Zaragoza, town hall of San Fernando de Henares or headquarters of Interclub-Caja de Burgos Foundation, Institutes of Secondary Education, etc.
Selected works of the 11th International Contest of Scientific Illustrations of Dinosaurs 2019:
https://photos.google.com/share/AF1QipPXvXS6_SG6ejSfvkRCJ0Z7b4j4bNbmdT4iUhaYeLWc2_30Hi_d8Gakz3maE7KaOw?key=OGZnUlN6YWhHZlduOHNMSmxVNWl4cDE5STNSWkFB