The expansion of the Dinosaur Museum warehouse begins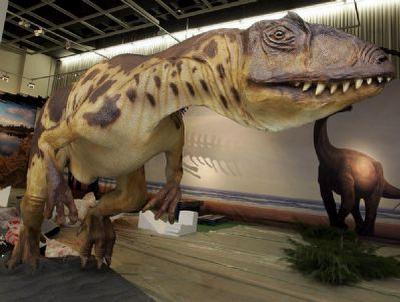 The work was requested in 2004 due to lack of space - S. OTERO
The works of the warehouse and new restoration laboratory of the Dinosaurs Museum of Infants' Rooms have already started. The works, awarded to Ocsacon, have a budget of 71,543 euros and an execution period of two months. There will be a warehouse of about 100 square meters and a restoration workshop of 44 square meters.
An intervention that will alleviate the situation of the museum's deposits completely overwhelmed by the large number of remains. "It is good that the works have started but it is an intervention that we requested as urgent in 2004, it will still relieve our current situation," explains the director of the Dinosaur Museum, Fidel Torcida.
Journeys
Satisfaction also among the scientific community that has participated in VIII International Conference on Dinosaur Paleontology and its Environment that have been held since 1999 and bring popes of world paleontology to the town with students who make their presentations and return once they have He developed his scientific career. "We want the event to maintain all the scientific rigor but also as it is a small congress, we try to ensure that everything runs in a relaxed way and the contact with the people who visit us and give their lectures is much easier and closer," says Torcida satisfied by This year's edition.
On this occasion they have had Steve Brussatte, author of 'Rise and fall of the dinosaurs' or the German scientist Martin Sander. The content of the nine keynote presentations and the 27 communications is usually published in the 'Journal of Iberian Geology'.
« DINOSAURS IN TORRELARA: EUREKA! The Dinosaur Museum launches its podcast channel on Spotify »