V INTERNATIONAL CONTEST OF SCIENTIFIC ILLUSTRATIONS OF DINOSAURS, 2013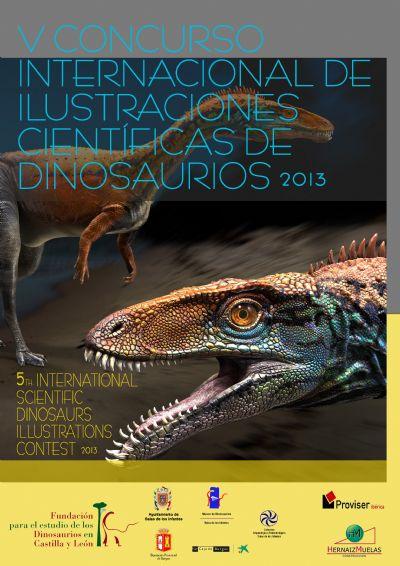 WHO CAN PARTICIPATE
Any person, Spanish or of any nationality, regardless of age.
THEME
The main theme are illustrations of dinosaurs. They can depict animals on their natural environment or as original fossilis.
IDENTIFICATION OF WORKS
The illustrations can be in colour or black and white, originals and unpublished (they will be eliminated those which are not) and they will be accompanied with the personal information of the author (name, last names, address, e-mail and contact telephone).
On the tittle of the work, it should have the name of the illustrated animal.
You can include as many works as you want. No limit.
SIZES AND TECHNIQUES
The size of the illustrations will be 297 mm by 210mm (A3).
As far as techniques, we will accept anyone as well as any material used.
DIGITAL IMAGES AND SENDING
The illustrations should be sent in digital format to any of the following addresses:
info@fundaciondinosaurioscyl.com
museodesalas@salasdelosinfantes.net
The minimum definition for the images will be 300dpi.
DATE OF ADMISSION
The works can be sent March 15 st till the 30st of June, 2013.
CRITERIA FOR SELECTION
The works will be selected for their scientific accuracy, quality and the techniques used.
They will have extra value the illustrations of dinosaurs found on the Salas de los Infantes'area*.
*We will place information on the web page of the Foundation:
(http://www.fundaciondinosaurioscyl.com)
JURY
The jury will be: John Sibbick, Raúl Martín, Carlos Papolio,
-Alain Bénéteau , All Paleoilustrators.
-Xabier Pereda Suberbiola. Paleontologist and Professor of paleontology of the País Vasco
-Luis Alcala Director Gerente of the Foundation set paleontological of Teruel. Dinopolis.
-Fidel Torcida Fernández-Baldor Director of the Museum of Dinosaurs of Salas de los Infantes. (Burgos)
VEREDICT
The jury's decision will be made public the 15th of July, 2013 through the Web of the Foundation.
(http://www.fundaciondinosaurioscyl.com)
Documentación:

RULES AND REGULATIONS V INTERNATIONAL CONTEST OF SCIENTIFIC ILLUSTRATIONS OF DINOSAURS, 2013
Documentación:

DINOSAURS OF BURGOS