IV INTERNATIONAL CONTEST OF SCIENTIFIC ILLUSTRATIONS OF DINOSAURS, 2012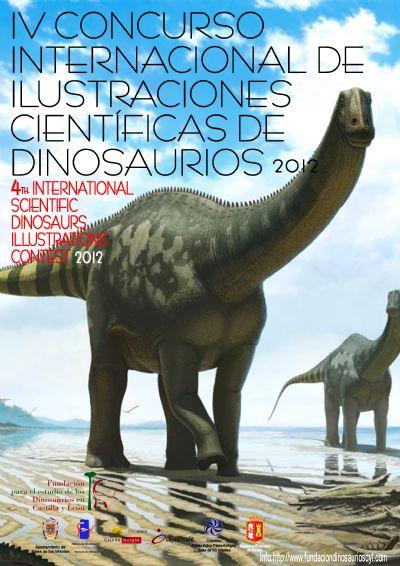 The Foundation for the study of the dinosaurs in Castile and León summons III International contest of scientific illustrations of dinosaurs, 2012
WHO CAN PARTICIPATE
Any person, Spanish or of any nationality, regardless of age.
THEME
The main theme are illustrations of dinosaurs. They can depict animals on their natural environment or as original fossilis.
IDENTIFICATION OF WORKS
The illustrations can be in colour or black and white, originals and unpublished (they will be eliminated those which are not) and they will be accompanied with the personal information of the author (name, last names, address, e-mail and contact telephone).
On the tittle of the work, it should have the name of the illustrated animal.
You can include as many works as you want. No limit.
SIZES AND TECHNIQUES
The size of the illustrations will be 297 mm by 210mm (A3).
As far as techniques, we will accept anyone as well as any material used.
DIGITAL IMAGES AND SENDING
The illustrations should be sent in digital format to any of the following addresses:
info@fundaciondinosaurioscyl.com
museodesalas@salasdelosinfantes.net
The minimum definition for the images will be 300dpi.
DATE OF ADMISSION
The works can be sent March 7 st till the 15st of June, 2012.
JURY
The jury will be: John Sibbick, Raúl Martín, Carlos Papolio, Arturo de Miguel , Mark Hallet, All Paleoilustrators.
Ángel Galobart, Paleontologist from the IPC (Instituto de Paleontología "Miguel Crusafont").
Octavio Mateus, Director of teh Museum of Lourinha (Portugal)
Fidel Torcida Fernández-Baldor Director of the Museum of Dinosaurs of Salas de los Infantes (Spain).
VEREDICT
The jury's decision will be made public the 25th of June, 2012 through the Web of the Foundation.
(http://www.fundaciondinosaurioscyl.com)
PRIZES
The prizes will be awarded by the Jury mentioned above. Their decision will be final. Among the criteria that the jury will consider, they will have special attention the originality and scientific quality of the illustrations.
No participant can achieve more than one prize. In case the jury grants two prizes to the same person, the Foundation for the study of Dinosaurs in Castilla y León will give the prize to second most voted.
The jury will have the option to declare the contest vacant if it considers that the works presented don't have the desired quality. Also the jury reserves the possibility of granting other awards to works not included on the first three prizes.
There will be three prizes:
1st Place: 600€ and Diploma
2nd Place: 450€ and Diploma
3rd Place: 300€ and Diploma
The jury may give several awards for especial mention, valued at 50€.
Documentación:

fi1Rules and regulations IV Contest of scientific illustrations of dinosaurs, 2012.pdf
Documentación:

fi2fi2DinosaursofBurgos(1).pdf